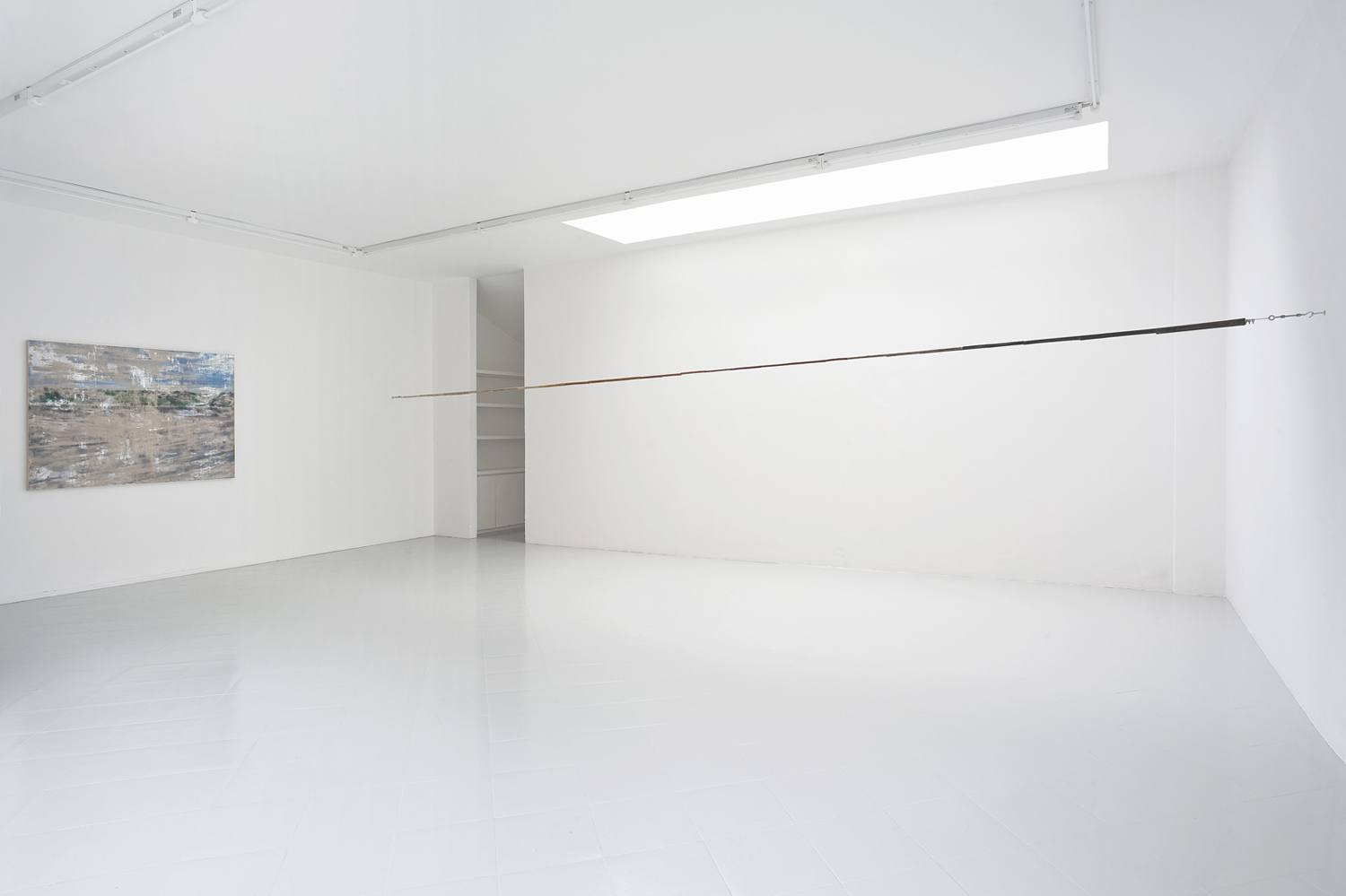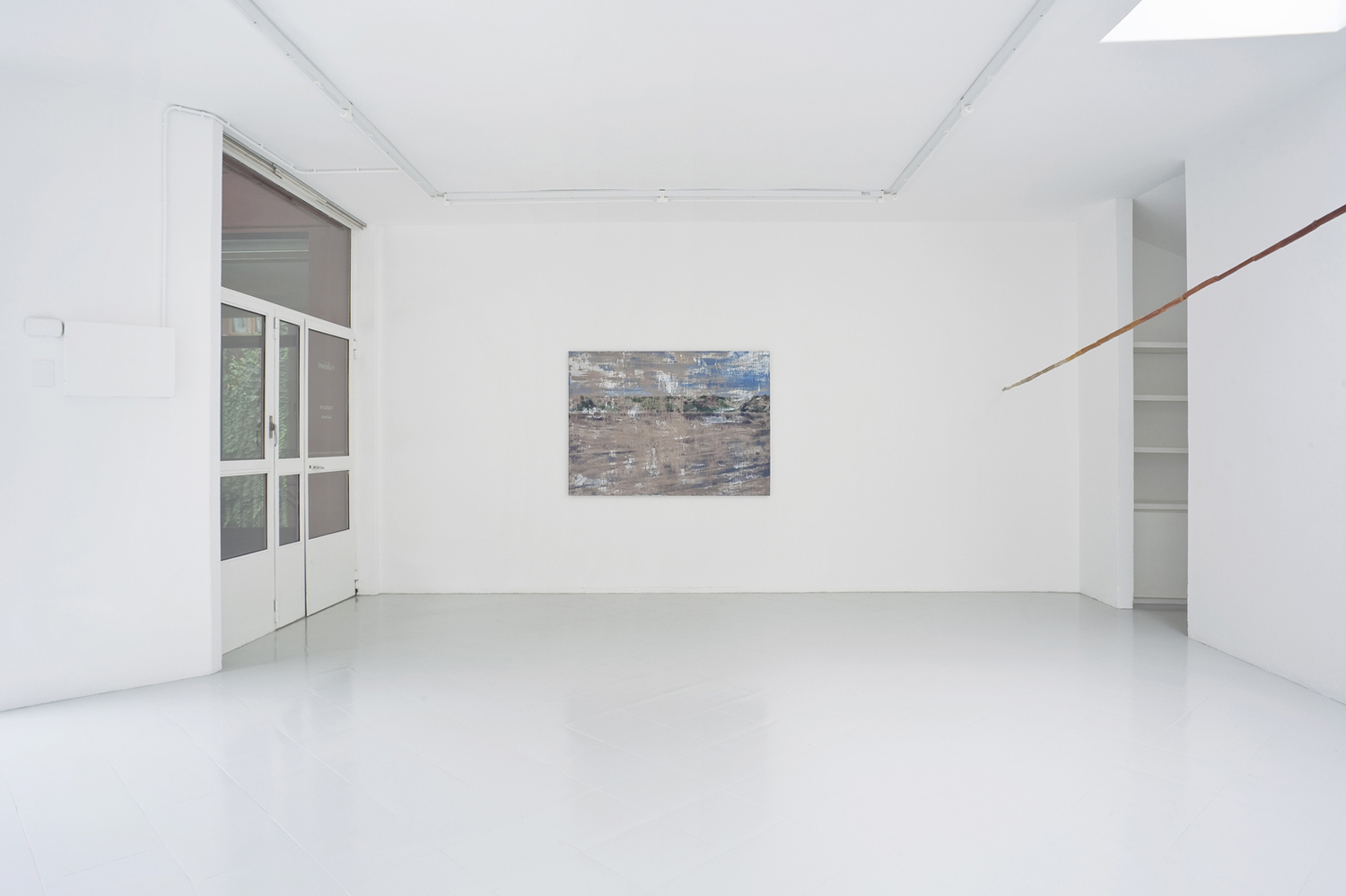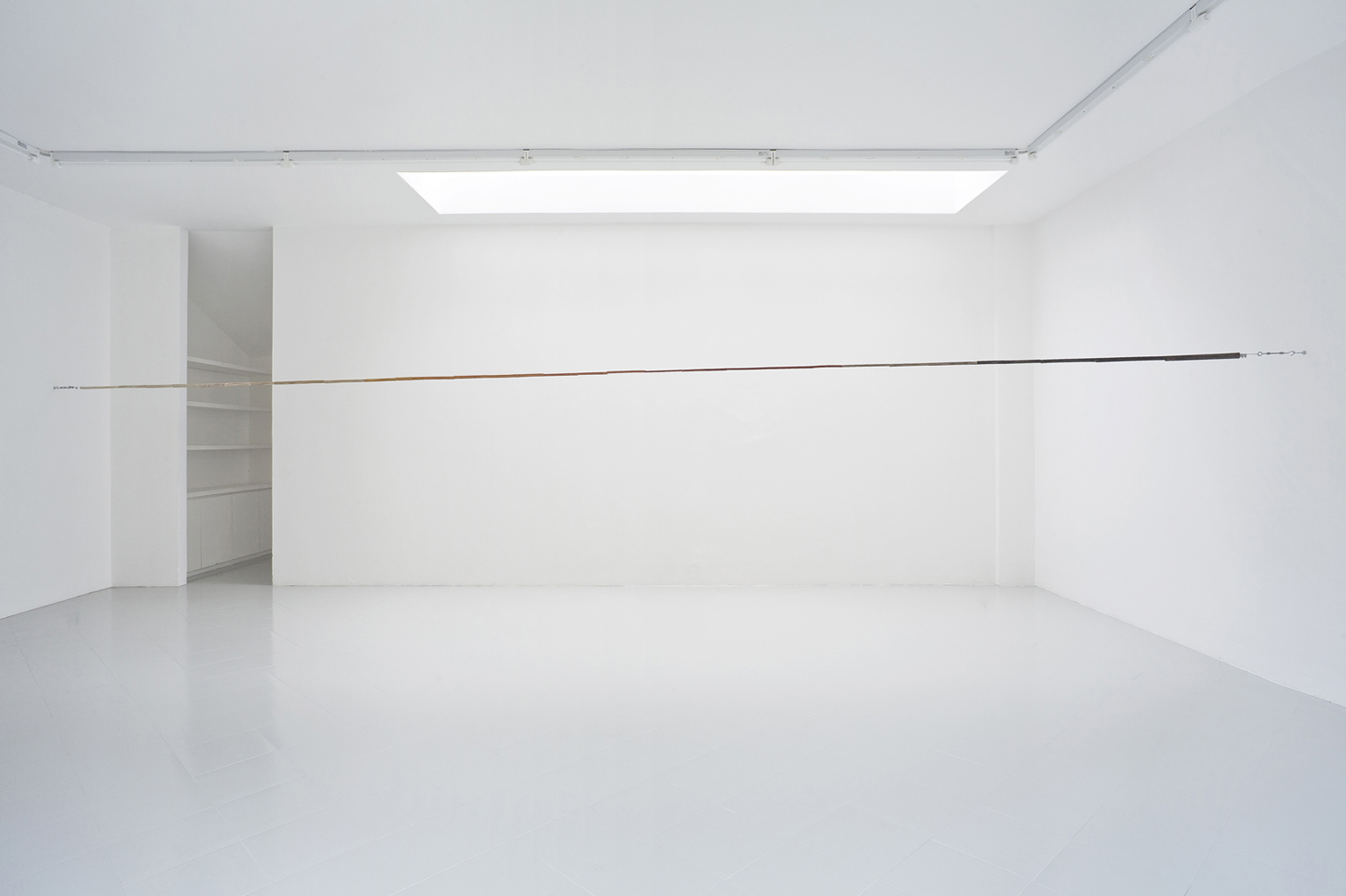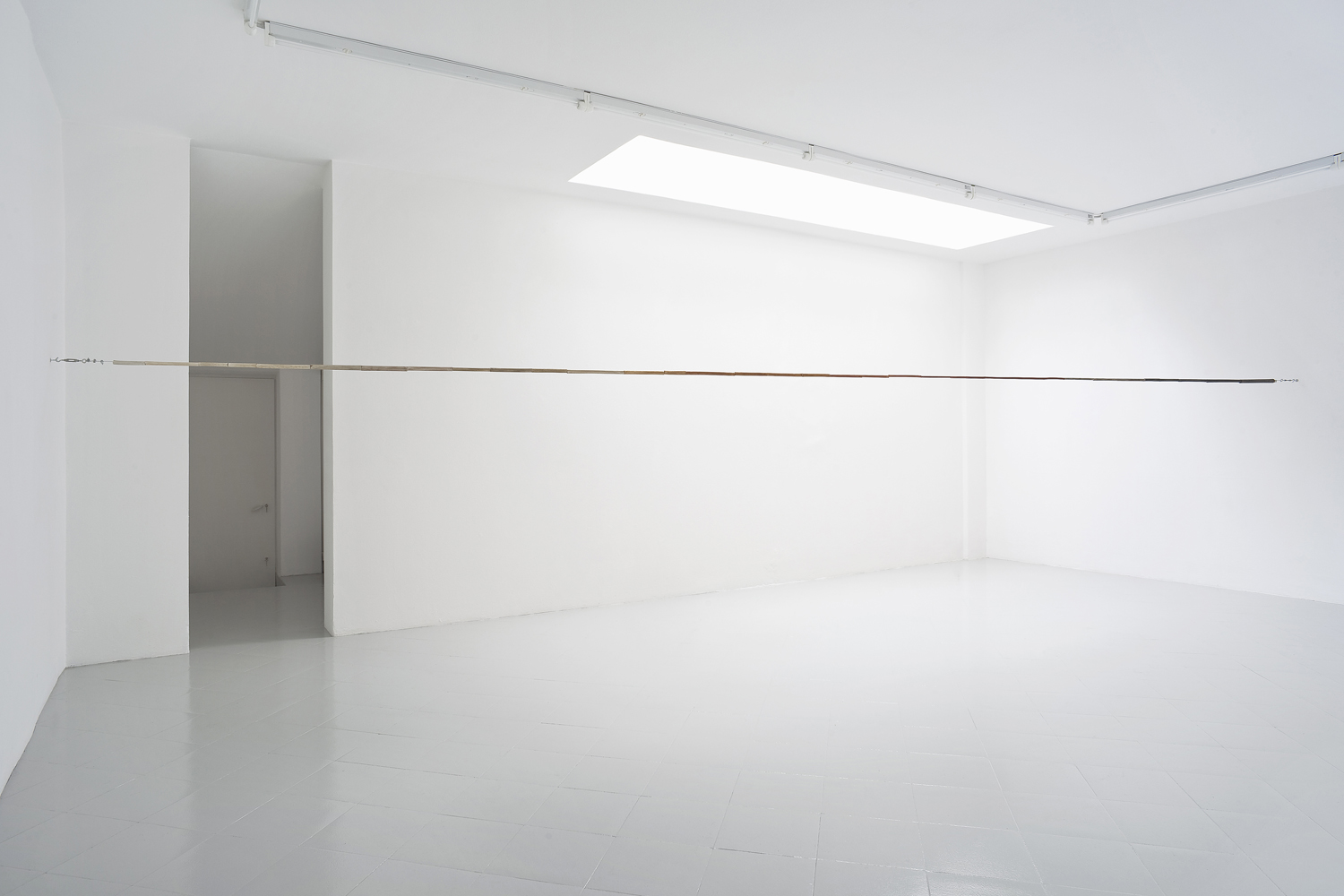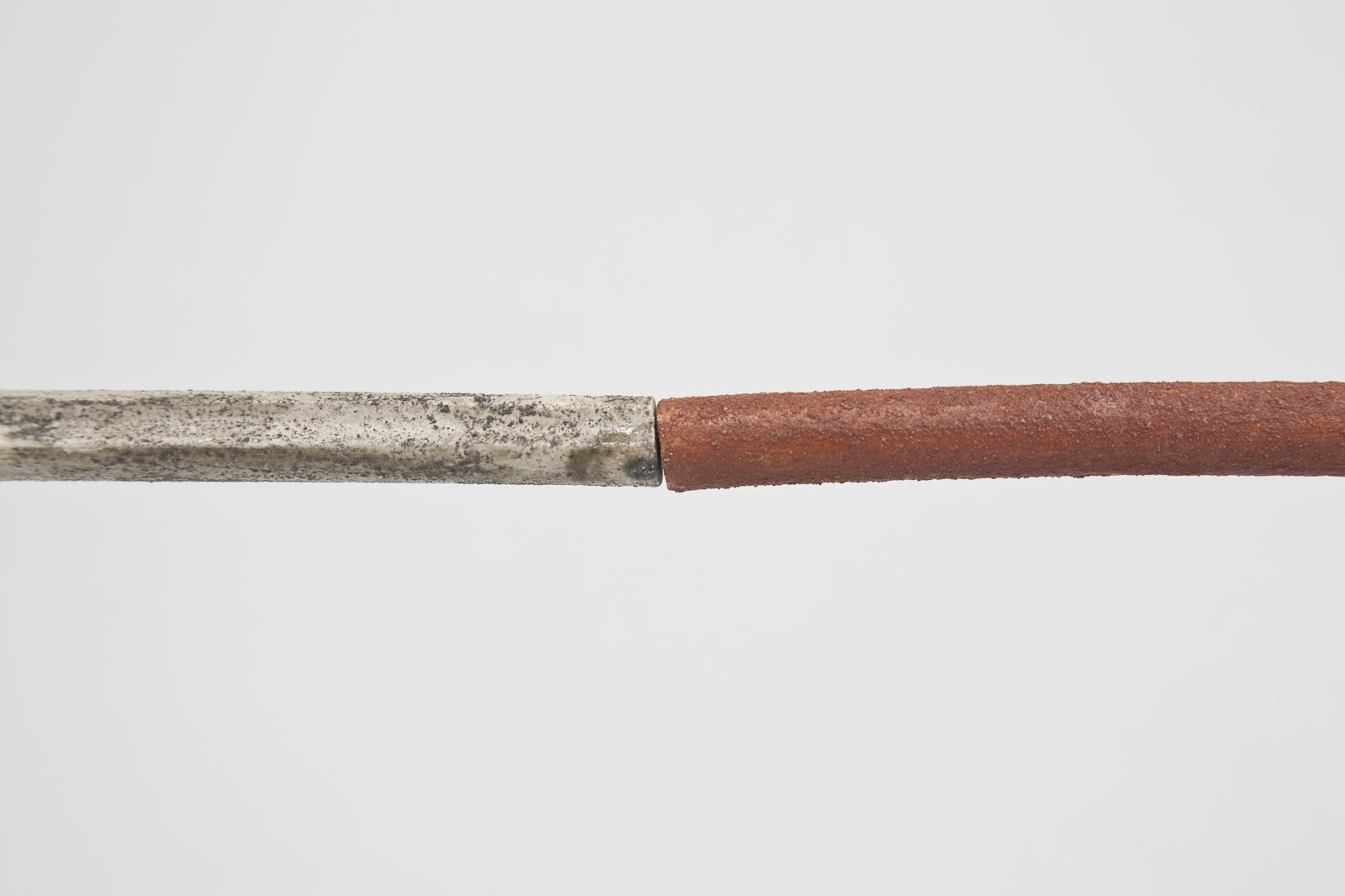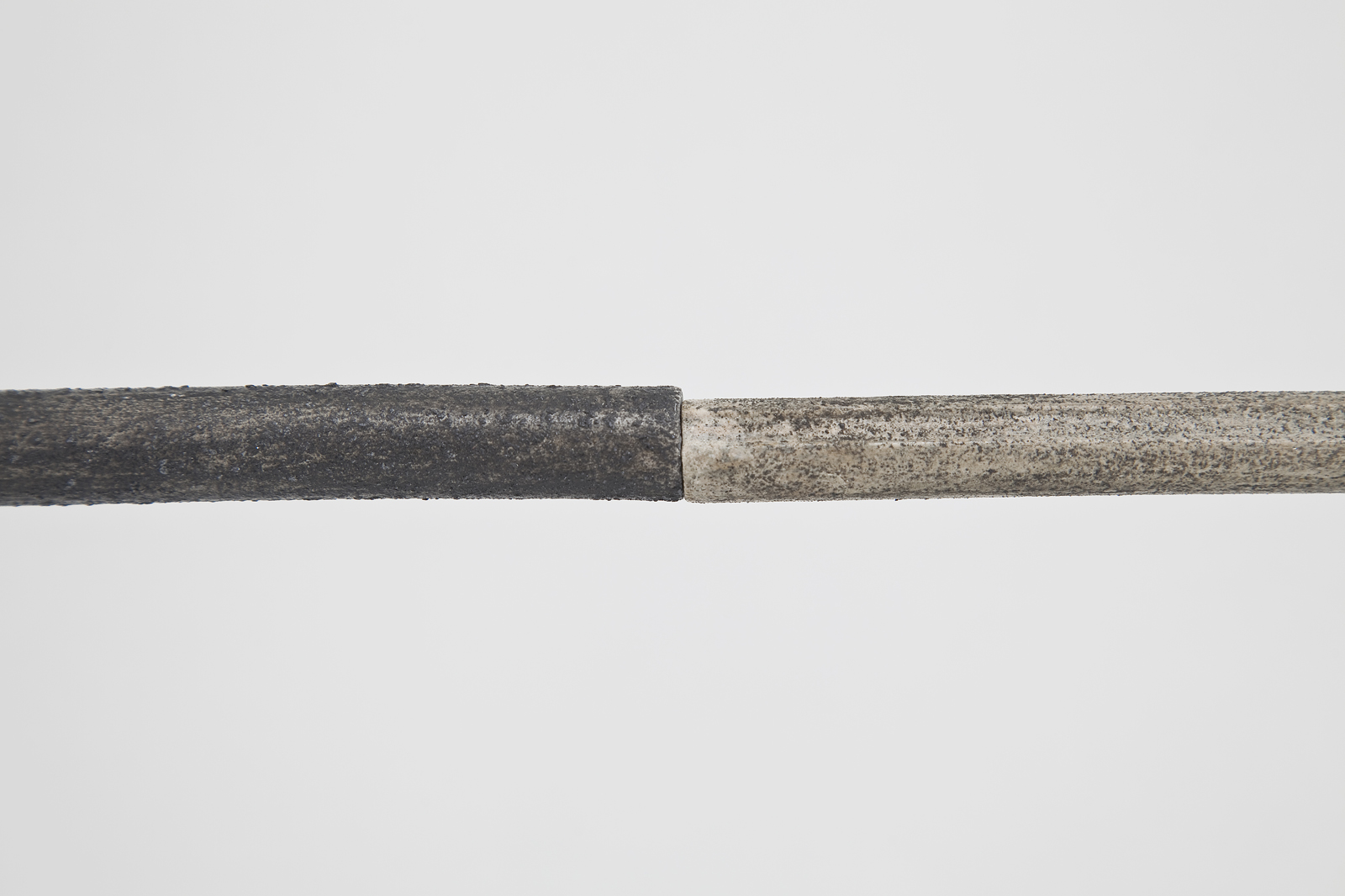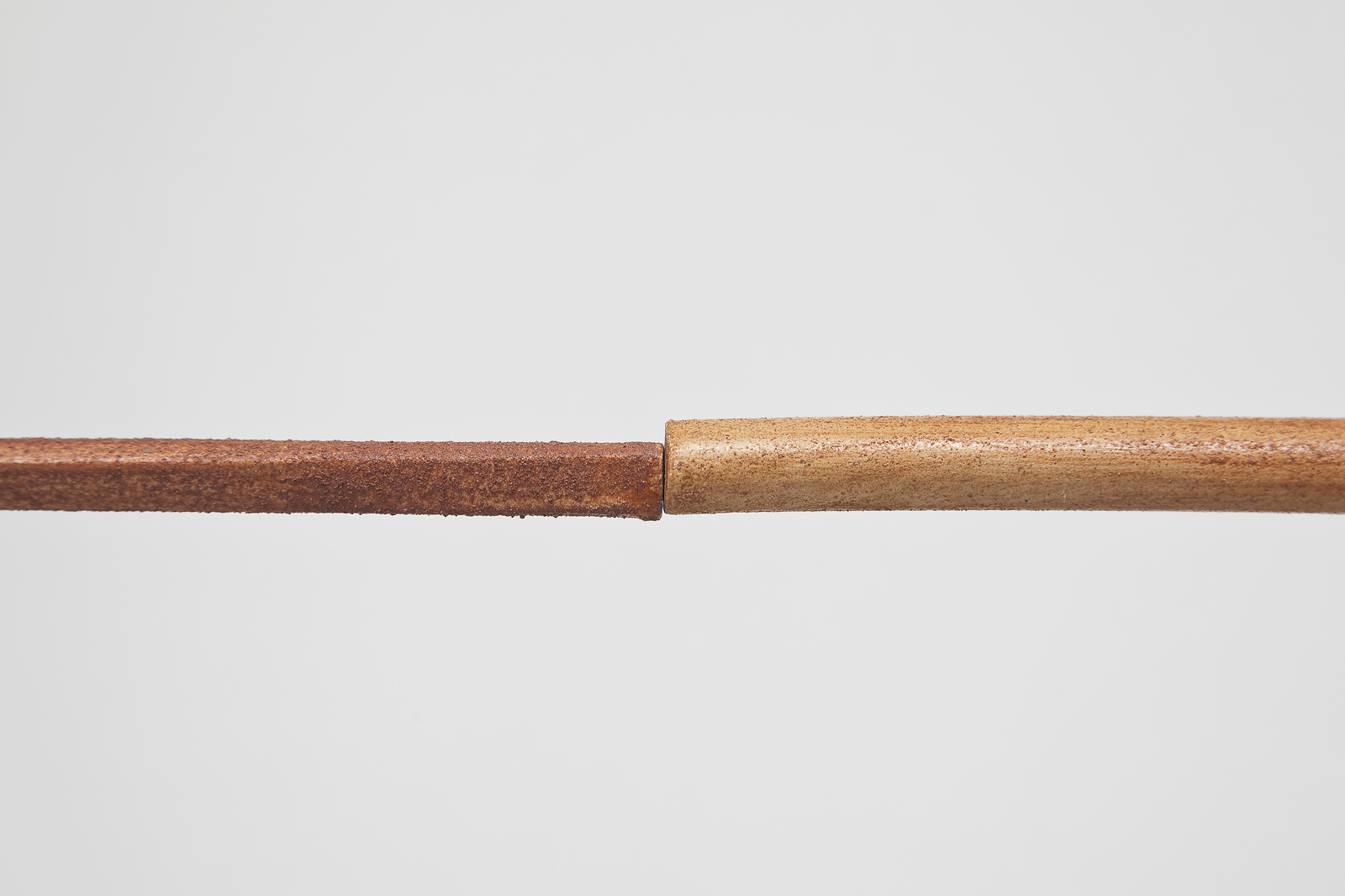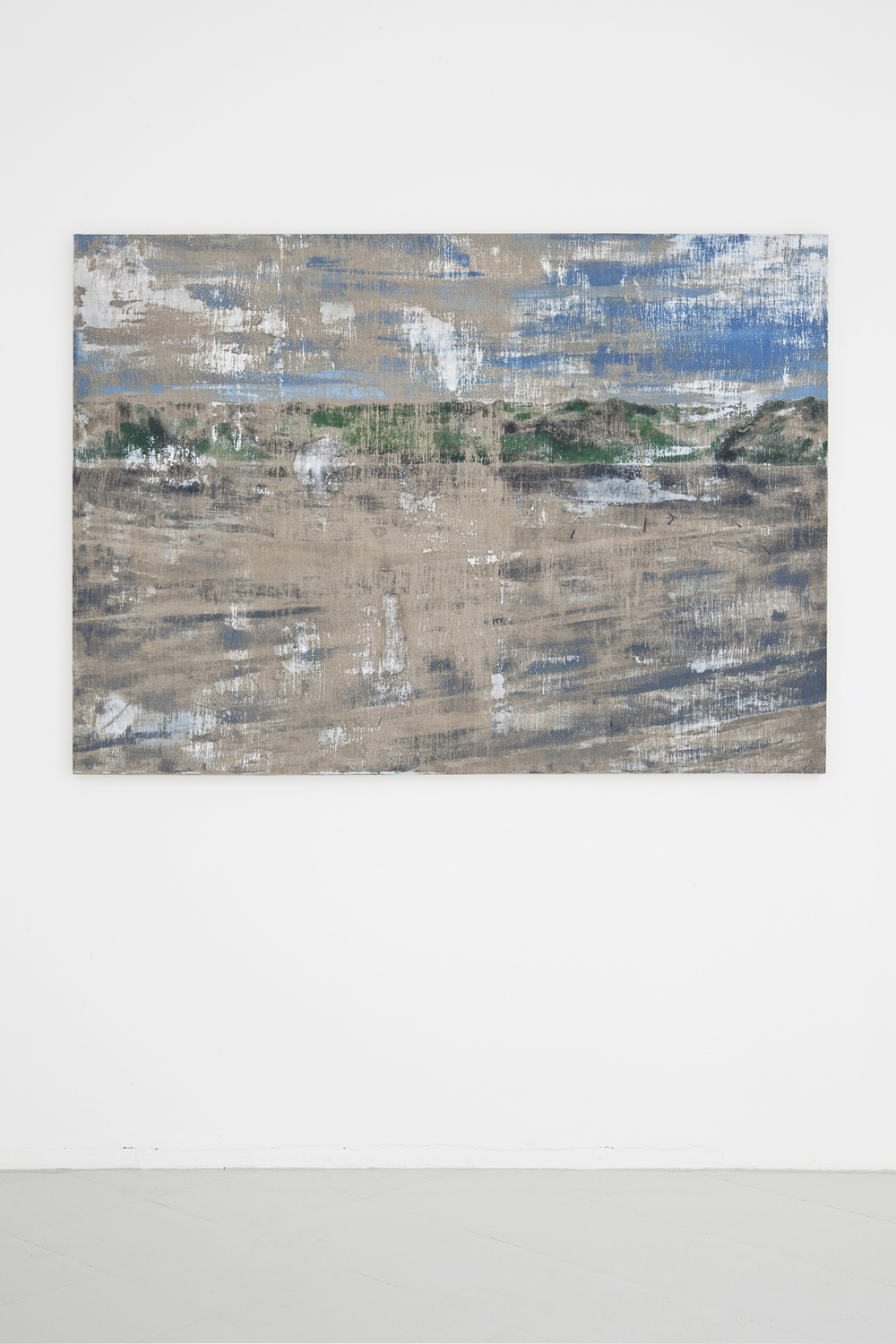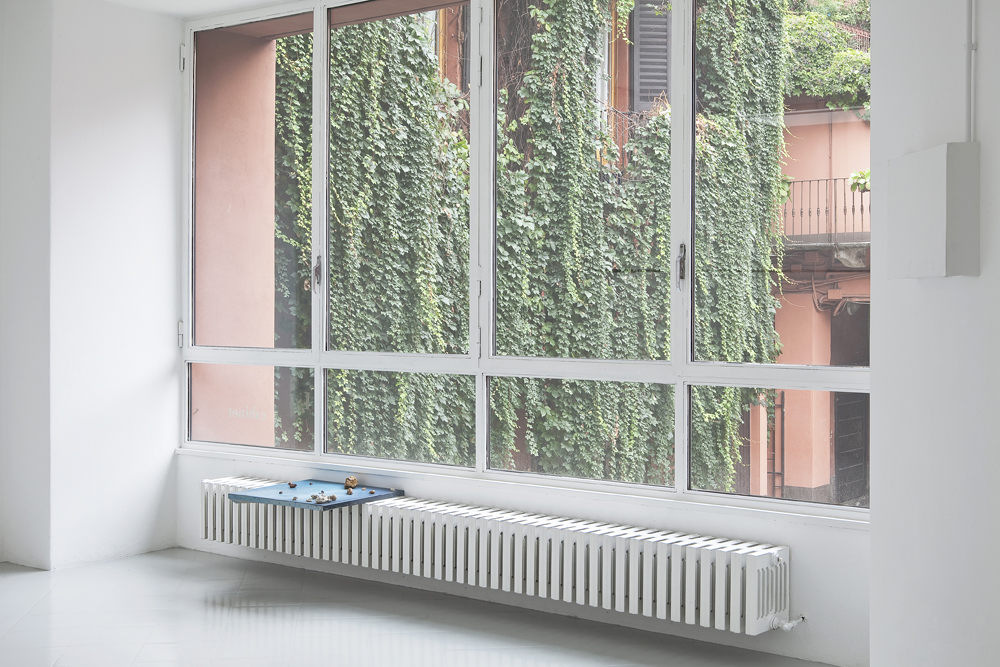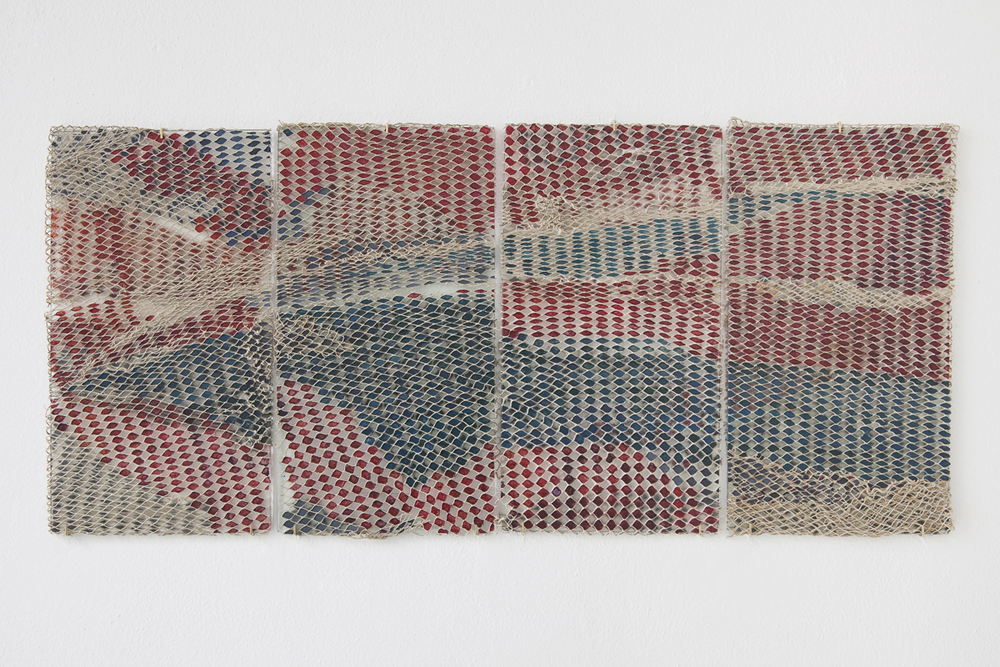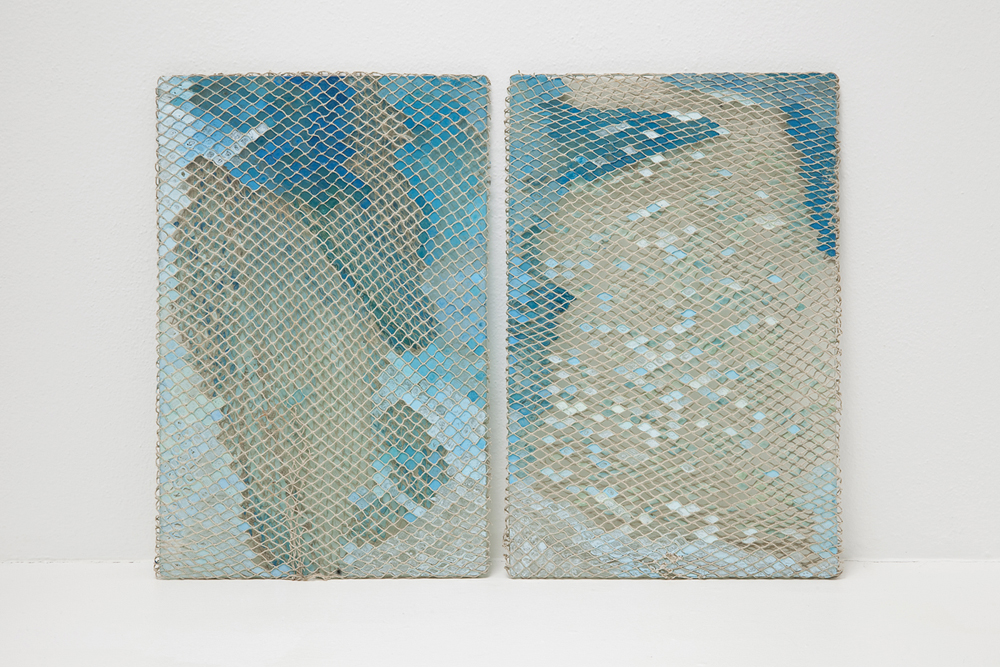 photo: Filippo Armellin


Gaia Fugazza per Studiolo #9 riflette sulla natura, intesa come sviluppo sensibile di forme in divenire. Compie uno studio calmo e profondo sull'ambiente e il suo evolversi, percependone la poesia e comprendendo, dal suo cambiamento, il senso pieno della creazione; campiona per cromia elementi terreni che raccoglie e manipola per trasformarli in cifra pittorica. In un vigneto raccoglie e seleziona 16 pietre, ripensandole in un processo di narrazione e trasformandole in nodi di una rete di rapporti invisibili.


L'artista traduce in colore il paesaggio che la circonda, polverizza gli inerti e crea pigmenti che imprime sulle pareti esterne di legno di bambù. Cilindri dalle sfumature naturali che passano dal grigio antracite all'ocra tenue sono tesi su di una retta che attraversa trasversalmente lo spazio espositivo. La linea, rapida nella sua stesura installativa, si amplifica di significati nella costruzione in piccole parti giustapposte, rivelando un processo creativo e spazio-teporale dilatato e definendo un orizzonte immaginato che si traduce nel confine, terra-cielo, di una grande tela contrapposta. Il dipinto, Terra dai colori esotici, Saché, compiuto con le gradazioni complementari stese sui legni, descrive fisicamente lo spazio dove è avvenuta la raccolta. Il paesaggio, dipinto su lino grezzo, si deposita sul retro lasciando alla vista anteriore solo un flebile tracciato di memoria.


Fa da contrappunto alle due opere una didascalia figurata dell'intero percorso di ricerca. Su di una tela-tavolozza, ottenuta amalgamando i colori dell'opera Terra dai colori esotici, Saché, si connettono i resti delle pietre polverizzate; residui dell'intero processo creativo.


In un continuum di variazioni sui temi della densità, Fugazza completa il suo studiolo con un polittico di vetro. Piastre trasparenti avvolte da reti da pesca in cotone diventano textures leggere che dipinge, intervallando con il colore gli alveoli, suggerita dalla composizione incontrollata della trama.


Gaia Fugazza for Studiolo #9 reflects on the nature, interpreted as the sensitive development of forms in becoming. She carries out a calm and deep study on the environment and on its evolution, perceiving its poetry and understanding, from its transformation, the full meaning of the creation; she samples earthly elements depending on their colors that she collects and manipulates to turn them into painting code. She collects and sorts 16 stones on a vineyard, rethinking them in a process of storytelling and turning them into nodes of a network of invisible connections. The artist translates the surrounding landscape into color, she pulverizes the inert materials and creates pigments that she impresses on the outside walls of bamboo wood.


Cylinders with natural nuances changing from dark gray to subtle ocher are layed on a straight line that acrosses the exhibition space. The line, rapid in its installational draft, amplifies its meanings in the construction of small pieces juxtaposed, revealing a dilated creative and space-teporale process and defining an imagined horizon that becomes the border, earth-sky, of a large canvas opposed to it.
The painting, Terra dai colori esotici, Saché, made with complementary shades stretched on wood, physically describes the space where the gathering took place. The landscape, painted on raw linen, sediments on the back of it leaving on the front view only a faint trace of memory.


A figured caption of her entire artistic search path acts as a counterpoint to the two works. The remains of pulverized stones, residues of the entire creative process, mesh on a canvas-palette, obtained combining the colors of theTerra dai colori esotici, Saché painting.


On a continuum of variations on the density themes, Fugazza completes her exhibit with a glass polyptych. Transparent plates wrapped in cotton fishing nets become light textures that she paints, spacing the alveolus with color, inspired by the uncontrolled composition of the weave.


-
Gaia Fugazza
Milan 1985. lives and works in London
Selected Solo Exhibitions: 2013 Studiolo #9, Studiolo, Milan, Shikinen Sengu, Oratorio San Ludovico, Venice; 2012 La quadratura del sasso, Room Gallery, Milan; 2010 Méridiens et Parallèles, curated by Annabella Torurnon, L'Age D'Or, Paris; 2009 Se Trouve, La Générale en Manufacture, Sèvres; 2008 Guilt, Inmo Gallery, Los Angeles; 2007 Afterwords, Atelier Pier, Sèvres
Selected Group Exhibitions: 2012 It seems that Much had an open air studio, with Kate Owens and Jessica Warboys, Tunisi Court, London, Collection Particulière, French Riviera 1988, London, Founding for Isola, curated by Julia Draganovic, Federica Patti, Galleria Bianconi, Milan; 2011 Table-projecteur, La Cité des Arts - Le Bateau Lavoir, Paris, Turno 14/22, Cascina Cuccagna, Milan, De Dreit Nien-Serpi Corallo, curated by Anonima Nuotatori, Spazio Borgogno, Milan, L'Auramara, curated by Bustos Domenech, CRAB Brera, Milan, Exploding Fluid Inevitable, curated by Anonima Nuotatori, Piscina Caimi, Milan; 2010 L'Auramara, curated by Busto Domenech, MC Gallery, New York, Quando si Parte, Assab One, Milan, How or When, curated by Francois Fleury, La Générale en Manufacture, Sèvres, The Berlin Wall, The Promenade Gallery, Vlorë; 2009 So many men 2, The Promenade Gallery, Vlorë, So many men 1, MAMM Museo de Arte Moderna, Medellin, Public Turbolences, curated by Alberto Pesavento, Isola Art Center, Milan; 2008 Depuis le Début, Espace MP1, Sèvres, Permanent Green, curated by Berth Teis, Isola Art Center, Milan, East Pico's Show, Lonnie Blanchard Studio, Los Angeles; 2007 M6 - Departement 3: Abschussball, West Germany, Berlin, Upperloc!, Theatre du Garde Chasse, Les Lilas; 2006 Melting Fest, Université Paris 8, Paris; 2005 Talk to the city, Careof & Via Farini, Milan